Details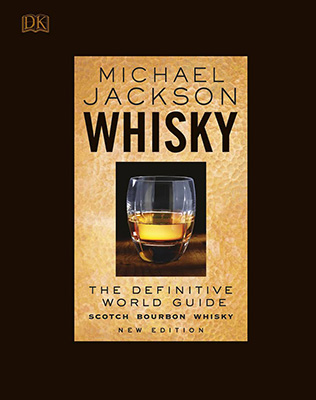 The new
Whisky ~ Whys - Limited Edition
now includes the
new Version II
of the Michael Jackson's book entitled "Whisky – The Definitive World Guide". This is the complete world of whisky reference book by the world's bestselling whisky writer. Michael Jackson, the "Whisky Chaser™, goes in search of whiskeys from Arran to Oregon and Cooley to Yamazaki to explain the differences and celebrate the diversity of whisky. From using whisky in cocktails and food to deciding which style suits your taste. Whisky will help you discover and enhance your passion for the spirit. We have included this publication, with a retail value of $58 Cdn.
The latest and most complete Whisky Aroma Kit in the business. This treasure chest contains everything you will need to experience the nosing and tasting of the most complex and sensorial challenging Whiskies in the world.
Each one of the aromas (based on natural oils) found in this kit has been meticulously crafted to precisely emulate the scent of the component it represents. Then, our expert panel working in tandem with our spirits "oenologist" chose for this kit, the twenty four of whisky's most prevalent and salient components and associated aromas. Each of them is mapped to one of the five taste profile classifications of Floral, Fruity, Woodsy, Grain and Phenolic.
You will revel in the sweet perfume of honey and caramel. Explore the dramatic aromas of Fig and Black Pepper. Journey through the various elements of Smoky within the Phenolic category and learn why a distinctive aroma of "Peat" is present in most Scottish single malt whiskies.
Train your olfactory system to identify the all important selected aromas that are in the Phenolic category. These are the all important: Smoke, Peat, Medicinal, Rubber and Sulfur. The recognition and appreciation of those core aromas as well as those found in the other categories are equally important for novices and whisky connoisseurs alike.
The aromas in this kit are:
Honey
Geranium
Grass
Cherry
Pear
Apple
Citrus
Fig
Plum
Oak
Nutty
Caramel
Vanilla
Black Pepper
Earthy
Coffee
Butter
Leather
Smoky Toasty
Smoke
Peat
Medicinal
Rubber
Sulfur
Your kit contains:
- Aromas – 24 vials categorized by the main whisky family classifications: Floral, Fruity, Woodsy, Grain & Phenolic.
- An instructional booklet to be used as an introductory handbook and as a key accompaniment to the aromas along with the journey of exploring the world of whisky and its appreciation.
- Whisky Aroma Wheel – covering the spectrum of aromas that allows you to map to the each of the five core categories.
- Packaging - In addition to being housed in a beautiful black case, designed to sit handsomely in your bookshelf or bar we have added a luxurious brushed aluminum metal plaque. This designer embossed cover adds both longevity to your kit but ties perfectly with the allure of whisky – with its lifetime of mystique and magic!